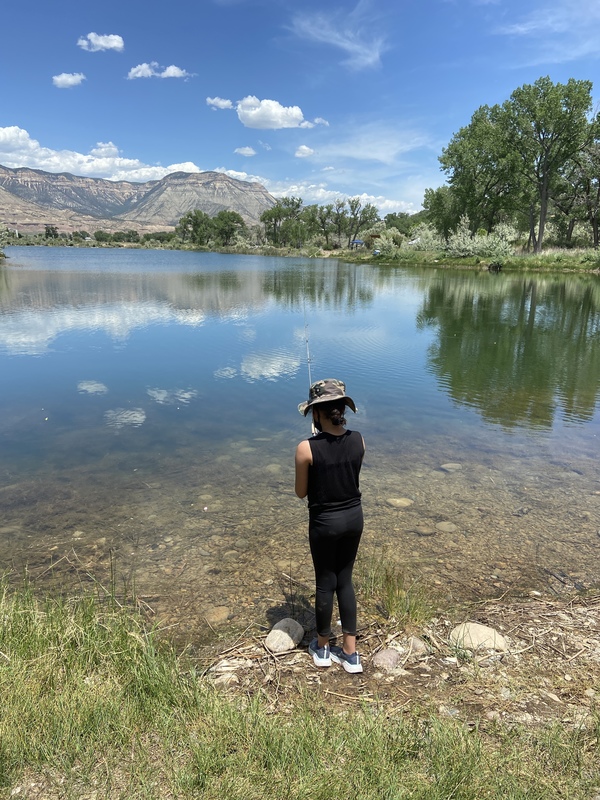 A student enjoying the serenity of Parachute Ponds while learning how to fish. (Photo by Krista Humphrey)
The Summer Advantage program hosted at BUE wrapped up last week. The program was held through the month of June, providing students with additional support in literacy and math, along with an outdoor education component. There were 156 students enrolled in the program, ranging from kindergarten through eighth grade.
Students enrolled in the program focused on literacy and math skills in whole group and small group instructional settings. Each child was assessed individually at the beginning and end of the program, most noticing an improvement in English Language Arts (ELA) and math. The four pillars of intellectual development, personal wellness, productive citizenship, and student agency were also integrated into the program by teachers and staff. In order to ensure personalized learning and one-on-one support, 12 teachers and 11 co-teachers supported the students throughout the program. Students were also provided with counseling services. Any student needing additional mental health support was able to meet with counselors to develop skills, strategies, and coping mechanisms to help them navigate through stressful times. The students, teachers, and counselors set goals and worked hard to achieve each student's individual goals, giving them a better understanding and chance of success for the next school year.
In addition to providing literacy and math support, students also experienced "Friday Adventures." Facilitated by the district's Outdoor Education Coordinator, Ari Philipson, and in alliance with Generation Wild and Garfield County Outdoors, students were able to get outside to learn about nature and outdoor activities right in their own backyard. Working under the motto "We all grow better outside," students participated in four adventure days.
The first Friday Adventure was hosted at BUE and focused on character building and gardening. Students learned from Master Gardener and retired AP Biology teacher Kim Whelan who taught what plants crave and what is in the soil. Students were then able to plant their own garden beds with starter plants including tomatoes, peppers, garlic, onions, and corn. Students were able to watch their plants grow throughout the program. Students also learned about pollination and made their own versions of helpful pollinators with recycled materials.
The second Friday Adventure incorporated volunteers from Colorado Parks and Wildlife (CPW). The students were taken to Parachute Ponds to learn about the life cycle of fish, the anatomy of fish, and fishing safety. Every child was given the opportunity to put their poles in the water and a few students were able to catch a fish. The excitement of the children celebrating their catches could be heard throughout the park.
Next was the Rifle Falls and Rifle Fish Hatchery experience. Students continued to learn about the life cycle of fish and their habitats from staff members of the fish hatchery. Students were able to feed the fish in the hatchery and note the growth rate of the various fish in different ponds. The students were also able to visit Rifle Falls State Park where CPW Interpreter, Hanna Grimes, taught them about conservation and wildlife habitats. Students were able to hike around the falls, explore the caves, and participate in games and team building activities. Students developed awareness relating to wildlife and environmental conservation.
In partnership with Morrisania Mesa 4H, the U.S. Forest Service, and Garfield County Search and Rescue, students experienced another adventure day hosted at BUE. Students met Smokey the Bear and learned about fire safety. They met with volunteers from Garfield County Search and Rescue to learn about wilderness survival tactics, including shelter building, hiker's safety, signaling, and how to increase their odds of survival if ever lost in the wilderness. Savannah Wages-Meyers, Leader of Morrisania Mesa 4H, then taught students archery skills. Under careful supervision, each student was able to shoot a bow and arrow at various targets. Students also learned about atlatls (an ancient weapon preceding the bow and arrow) and were able to use the atlatls, attempting to strike the target.
The last adventure day was hosted at the challenge course outside of the Garfield County District 16 administration building. Trained facilitators led students through low ropes courses, focusing on team building and communication skills. Students were then able to climb the high ropes courses. With safety harnesses in place, facilitators guided students as high as each student desired, with their classmates cheering them on.
The 2022 Summer Advantage Program was a success. Most students enrolled in the program needed additional support in literacy and math. Not only did they receive the support they needed in these subjects, but they also were able to benefit from a robust outdoor learning experience. In the words of teacher Kathy Severson, "I've been a teacher for about 37 years and Summer Advantage was a great reset. We had students saying 'I love learning,' and that was a great reminder of why I do what I do."