Ding, ding, ding. A bell chimes down Red Hall for the second time today and again students reply with applause in delight of another classmate advancing toward his/her goal. The majority of the students don't know which student rang the bell. They are in their classrooms and the bell is at the end of the hallway. Still, everyone in the Sixth Grade classes knows when the bell rings it means another student has accomplished a goal. Why does everyone clap and cheer?
"We want them to know they did a good job." says Matthew Parks.
"Even if they don't know who rang the bell they want to let that person know they are supported" adds Ashley Rascon.
As we move to competency-based personalized learning, students look closely at the targets they are to meet. Then they set goals around the targets. Goals are set in math, literacy, science, social studies, productive citizenship, and personal wellness. Students meet individually with their teachers after they achieve their goal. When the teacher agrees the goal is met, the students go to the hall and place a star with their name on it on the bulletin board. Then they proudly walk to the end of the hall, grasp the cord, and ring the bell of sweet success.
This is where everyone gets a chance to shine – to get credit for improving. However, this isn't an "everyone gets a trophy" idea. The bell is significant because it represents a real accomplishment. Students must meet the standards for the goal.
"You have to meet all three level criteria to ring the bell," explained a participant. "You don't just level up in an area of literacy you like then get to ring it. You have to complete all parts of the level even if you don't like some of it."
Some may ring it more often than others, but every ring represents a student accomplishing a goal, improving their skills, improving their chances of success in school and life. Matthew is new to GVMS, but in just a short time he was out ringing the bell. Gabriel Wallberg explains, "It's easy to set the goals. You know what you are supposed to do so you know what to make your goal and you know if you've accomplished it."
And how do they feel when they ring that bell?
"It feels good. You know you've accomplished something." Matthew says. Ashley
and Gabriel agreed.
Kyzen Hougland adds, "It feels great because when you go home you are proud
of yourself and you know what you have accomplished."
Do they have any advice for the students coming to Sixth Grade next year? Kyzen advises them, "Don't make it (the goal) too hard or too easy. Set it high enough though, so when you do accomplish it it is really rewarding."
There is a popular saying that may have come to some people's minds as they began reading this story. The saying goes, "Every time a bell rings an angel gets its wings." In Red Hall, every time a bell rings a student moves toward the freedom an education can provide. Ring on Sixth Graders. Ring on.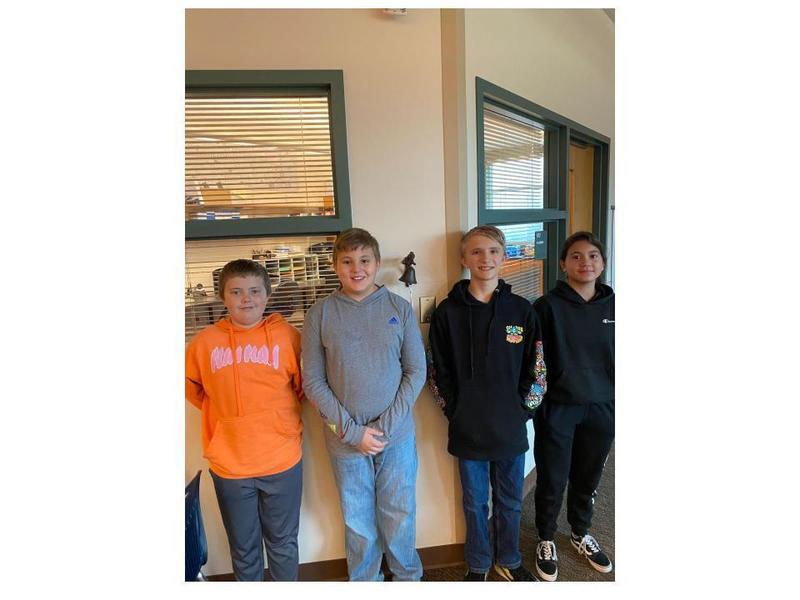 Gabriel Wallberg, Kyzen Hougland, The Bell, Matthew Parks, Ashley Rascon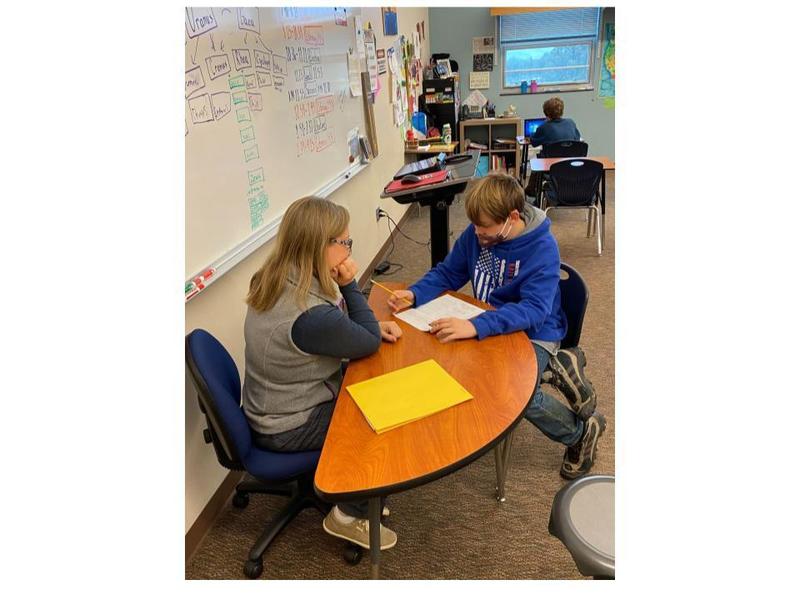 A student goes over his progress toward his goals with his teacher.